Creative Designs for Custom Engagement Rings If you're thinking about proposing to your partner, the first thing you might start to consider is finding the perfect ring. After all, this is a ring that your beloved will be wearing for the rest of her life.

Nowadays, a lot of people are looking for something different, and one-of-a-kind engagement rings for that special person in their lives. But one important thing that is usually overlooked in the process of finding a unique ring is the opportunity of custom designing it.

Custom or bespoke engagement rings are becoming quite popular and for a good reason. It enables you to bring an idea come to life and design an engagement ring for your loved one that is so different and exceptional. It will forever be a meaningful gift that she can pass down for generations to come.

Here are some creative design ideas for custom engagement rings to help you create the perfect ring for the love of your life:
The Vintage Inspired Look
Many people love the look of vintage rings because they are unique and are usually handcrafted. Though sometimes, there can also be some disadvantages to buying an actual vintage ring, since the diamonds are a lot different than the ones that are being used today.

An excellent solution for that is to get a "vintage inspired" ring. Work with a professional custom jeweller and tell them to include unique patterns, classic filigree details, and to add newer stones to the design to make it look more vintage.
Opt for Colored Gemstones
You can always incorporate coloured gemstones into the engagement ring to give it some character and flair. It's the perfect way to boost an otherwise standard-looking diamond ring and make it seem more vibrant and elegant.

Finding rings with coloured gemstones can sometimes be difficult, and the selection can often be limited as well. Talk to your custom jeweller to see how they can include a pop of colour into the engagement ring.
Add Some Personal Touches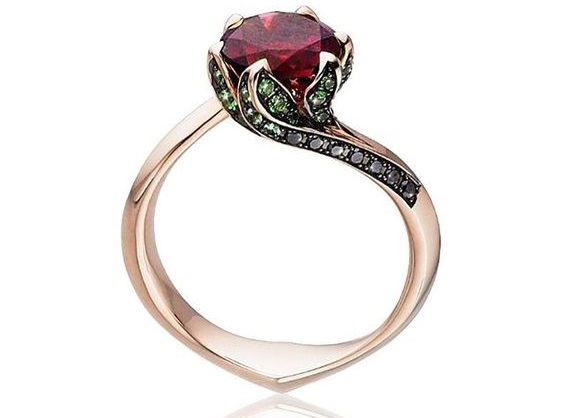 One great way to make the engagement ring more unique is to add some symbolic details in the design. You could attach a love knot, or you could also add a small gemstone on the inside of the ring.
Choose a Unique Setting
If you want something that is original and creative at the same time, ask the design team of your preferred jeweller to think of a custom ring setting that is entirely different than anything else you've seen before. You could combine different metals to give the setting a contemporary look or make the metal design of the ring more complex.
Incorporating Rare Diamonds
Everyone wants to have a ring that's unlike any other. One way to achieve this is to add a fancy coloured diamond stone to the engagement ring.

Black, pink, or yellow diamond stones are incredibly rare which makes them an exceptional choice. Since they are rare, the design options for coloured diamond rings will be much smaller than the range of classic diamond rings. However, when you're working with a custom ring designer, you can definitely create a design that features these gorgeous coloured stones in a way that accentuates their beauty.

Grab the incredible opportunity to get her custom engagement rings that will truly be unique and special. Opt for custom engagement rings now!

Bio:
For more than ten years, Daniel Greenberg has been hand crafting DG Bespoke Jewellery and is known as a trained master diamond mounter and goldsmith. As he was taught by one of the best jewelers in London (his father), Daniel makes certain that all his unique pieces are pure perfection.