Ellen de Generes – one name to rule all talk show hosts. Best known to be the versatile host that she is today, Ellen started out as a waitress moonlighting as a stand-up comedienne way back 1980s. After a few gigs, she ended up with her own sitcom in 1994 entitled, 'Ellen'.

Following the coming out of her character in 1997, Ellen also came out. Now, she is known to be an LGBT advocate. She even married her girlfriend, Portia de Rossi in 2008.

From waitress to superstar host, Ellen proved that she deserves all the fame and glory that she has today, not to mention the wealth.

Net Worth
With an annual income of $75 million dollars a year, it is not hard to believe that the phenomenal talk show host's net worth rises above $400 million dollars.

Now, knowing that she is worth this much, it is beyond unbelievable to see she has many collections. Being watch collectors ourselves, we have taken interest and focused on Ellen Degeneres watches.

Ellen de Generes' Watches
Ellen once said, "The only watch I wear. I have both vintage and new models.", referring to the lavish brand, Rolex. She proved this statement correct a lot of times.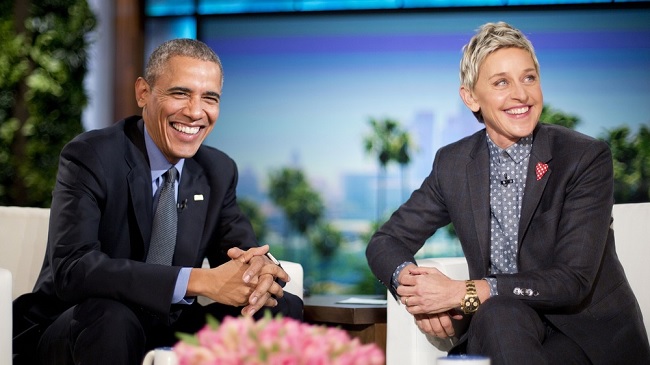 1. Rolex Yacht-Master
When she received her People's choice award last 2016, Ellen wore this watch along with her all-black ensemble. Constructed from the ceramic alloy named Cerachrom by Rolex, this watch is certified not to fade even when exposed to harsh weather conditions. It is also scratch resistant.

True to its navy-like name, this watch is proven to be water resistant up to 300 meters deep. It is also armed with a titanium and nickel bracelet now known as the Oysterflex. This is combined with an 18k Everose gold Oysterlock to seal it in place.

2. Rolex Submariner
On one of her visits to her wife Portia de Rossi inCheck Out A List of Watches Ellen Degeneres Wears!

2013, Ellen was seen sporting a Rolex Submariner in white gold and blue dial. Again with the Oyster case, it is made with 18k gold alloys. This is created by using specific measurements of different types of gold: yellow, pink, and white. It also comes with a blue dial, thus nicknamed the "Smurf". The dial is to ensure the readability and the mark of a true Rolex. It is also self-winding with its model 3135 movement.

It's bezel, a bi-directional one, ensures that a diver can monitor his/her movements underwater. With that being said, we all know that the Rolex Submariner is waterproof up to 300 meters or 1,000 feet.

3. Rolex Daytona
It seems like the Rolex Daytona is one of favorite in Ellen Degeneres Watches. She was seen wearing this brand on several occasions, including that of her interview with the United States President, Barack Obama. From the vintage models up to modern ones, deGeneres sure owns a lot of them including one from the Paul Newman line.

The Daytona model also has 18k gold from the finest minerals. It is also a self-winding chronograph in nature, encased by scratch-resistant sapphire. It also comes with a fixed 18k yellow gold bezel with engraved tachymeter.

Writer Summary
Jessica Ramirez is an entertainment blogger with a passion for fashion. She loves spotting celebs and writing about their style and outfit.