When you wish to flaunt off your ultimate style persona the very first thing that hits to mind is kurtis. With easy access to wear and maintain, kurtis over the period of time have become out to be the new favorite. Be it posting your pictures with the hashtag on social media or making him your fan forever, the traditional garment called kurtis could simply do all that for you.
The first thing you notice in any kind of garment is sleeves. Over a period of time, the pattern of sleeves has started varying on a larger scale. Some are thicker, full, narrower or broader sleeves. In the verge of 2020, when you got to have hands-on something on latest sleeves then here are some patterns in kurtis that are as follows:-
1. Lantern Sleeves: -
If you are a social butterfly then to embrace your fashionable look this sleeve is worth a try. Generally, this type of sleeves is divided into two sections. The wearer can see that the head of sleeves has flares and the bottom part easily fits into the wrist. When both the bottoms are joined then this lantern shape form shape. It becomes a more convenient option to select from embroidery or printed ones.
2. Long Bell Sleeves:-
If your fashion veins command to make that heads turn and flaunt off your amazing style statement, then this type of sleeves are made for you. Full flare can be observed at hem and made it a bell shape. You can show off your exquisite style by borders or tassels on the sleeves. This love seasons it's worth trying on an amazing range of kurtis.
3. Frill Sleeves:-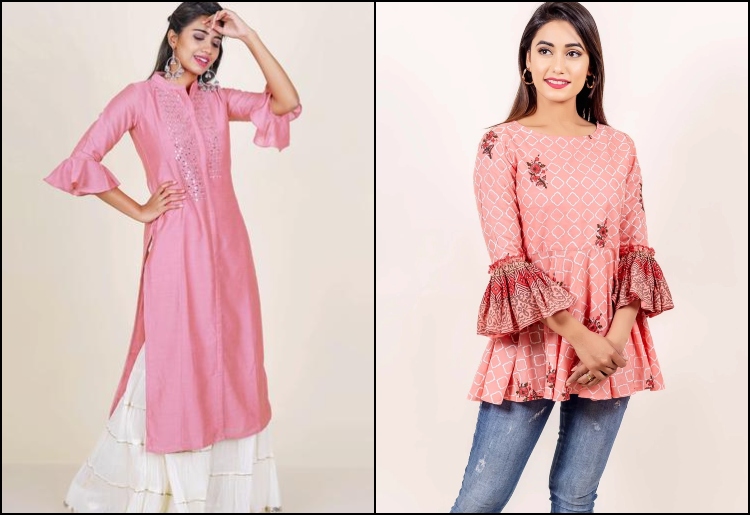 Try out something exciting and different in fashion fervor and try out this uber-cool type of sleeves. This type of sleeves is also called as the flute sleeves. Generally, the sleeves fit to the elbow length and there onwards there is the infusion of frill. Ideally, this type of sleeves will look good even on long kurtis.
4. Tulip Sleeves:-
Generally in this type of sleeve, you will find that two edges are overlapping each other. Usually in this type, the sleeves are short. If you wish to maintain that professional look, then flaunt it off with minimal makeup.
5. Butterfly Sleeves:-
Puff at the top is the most adorable factor in this type of sleeve. Near the hem, it is generally loose. If you are out for a social gathering or party don't forget to carry on a stylish clutch or potli bag that will help you to carry your daily essentials easily.
6. Puff Sleeves:-
If you wish to take an amazing cue from the current fashion trends, then this type of sleeves is worth a try with kurtis. The puff gathers with the help of drawstring and it brings a sort of gathered part appearances.
7. Balloon Sleeves:-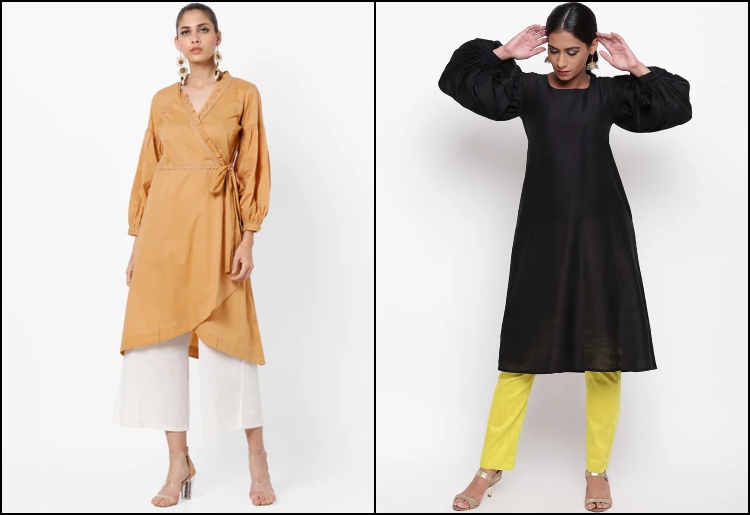 Keen on having an ultra-feminine silhouette? These sleeves have come all the way from nostalgic times to you. They perfectly look distinguished and ultra-classy in hot summer days.
8. Batman Style Sleeves:-
Crafted with stunning designs in mind, when this sleeve is in your kurti, it's bound to create that vibe of the ultimate look. This is one piece that slowly narrows down from the waistline. When you team on this kurti to show up with a great smile and swag. These Kurtis are perfect to maintain your stylish look all day long.
9. Banded Sleeves:-
When you want a confidence-boosting look for your formal presentations then you could simply adapt banded sleeves in kurtis patterns. Generally in this style of patterns only on the hemline different color is used. The long kurtis will be a perfect addition to your traditional look. In order to look beautiful and elegant, you try out contrast colored borders.
10. Elbow Patch Sleeve: -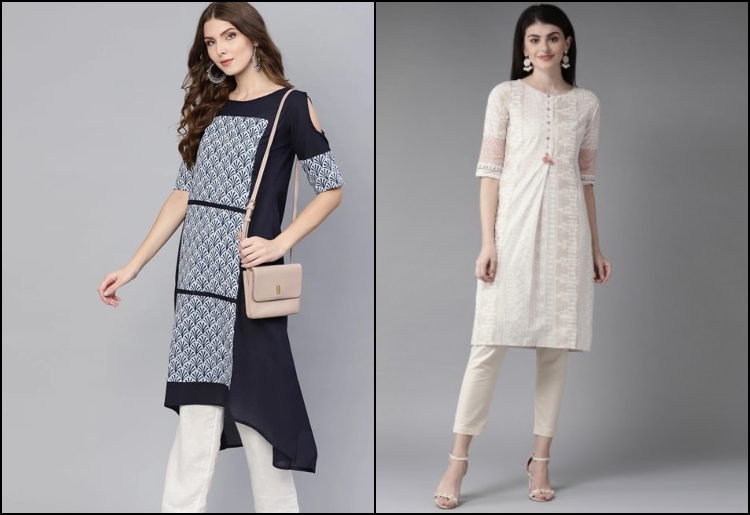 This style is perfect to merge tradition and modern fashion. The patches on the sleeves make it look extremely stunning and remarkable. It also protects the garment from wear or tear. To keep yourself summer proof you could try out cotton fabric or lighter fabrics in kurtis.