To put it simply, cufflinks are used to fasten your shirt cuffs. They're basically an alternative to your usual ordinary buttons that are normally attached onto the cuffs of your shirt. Just like buttons, cufflinks come in various sizes, shapes, styles, and materials. They offer a little more style and interest into your outfit, and are considered a more decorative option.
Here's How It Works
Cufflinks fasten a shirt by simply sliding them through holes on either side of the cuff opening, then twisting into a fixed or locked position to hold both sides together.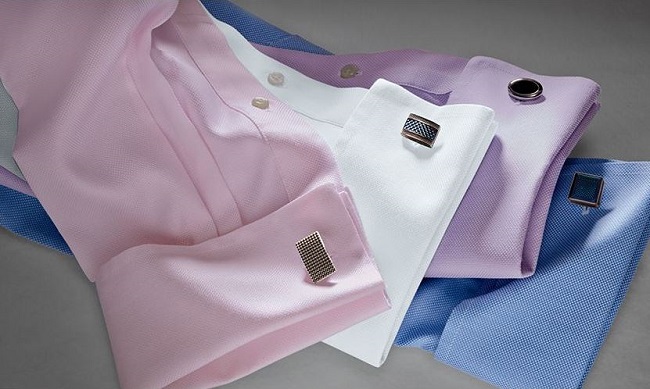 They can be worn with either doubled-back "French" cuffs or with single cuffs. French cuffs has two holes on either side of the opening, while single cuffs are just like any regular button-down shirt cuffs but with holes on both sides of the opening.
The usual way of wearing cufflinks is by laying both sides of the cuff atop each other. This way, both interior sides should face each other. However, It is not "improper" to attach the cuff sides in an overlapping manner. With this arrangement, the interior side of one edge of the cuff lays atop the exterior side of the other edge.
According to most men, the "barrel" or overlapping style actually looks more slender and business-like than the other one. Neither of these styles are wrong, but the traditional approach has been considered better suited to the decorative nature of cufflinks – especially for Bespoke Cufflinks, as you'd want to show them off.
To fasten them, the holes on both side of the cuff opening should line up (whichever style you prefer). After that, insert the cufflink through the holes – and lastly, twist the lock to keep the cuffs in place.
When to Wear Cufflinks
Most people would think that cufflinks are just meant to be worn during formal events, as an alternative to the regular (and boring) buttons.
However, that's not entirely the case. Even your plain white dress shirt and other casual work outfits that come with either French cuffs or with single cuffs with holes on each side, can also be matched up with a pair of cufflinks. That means you can wear cufflinks every single day if you want to.
If you want to style up your business and casual outfit, try using a pair of bespoke cufflinks now!

Bio:
We want cufflinks to get the attention they deserve which is where Cufflinks Gift Hub got created. We take personalization to a new level and offer unique men' accessories that only we can provide. We take customer satisfaction seriously as we know the little things we do make all the difference.